Healthy Actions and Lifestyles to Avoid Dementia
or Hispanos y el ALTo a la Demencia program (HALT-AD)
Why HALT-AD?
Alzheimer's disease (AD) remains to be the single most feared disease associated with aging, having a devastating social and economic impact on patients, families, and the community. In San Diego County alone, over 84,000 individuals have AD, which disproportionately affects Hispanics/Latinas/Latinos/Latinx.
Experts in AD and aging now know that altering certain aspects of our lifestyle and behavior can reduce dementia risk. We want to get the message out that factors such as better nutrition, physical activity, sleep and reducing stress can all improve our chances of maintaining our cognitive health. There is lots of inaccurate information available, and as clinicians and scientists, we see a need for adults to have access to good quality information in an easy-to-digest format. We created an accessible educational tool, specifically designed for mid-life and older adults, in Spanish and in English, to help make these lifestyle changes happen. We call this tool HALT-AD.
What is HALT-AD?
HALT-AD is a novel bilingual – English and Spanish- program that helps adults identify their risk factors for dementia and then learn how to reduce these factors through changes in their lifestyle.
HALT-AD is online. It can be accessed via phone, tablet or computer.
HALT-AD offers at least 10 courses with videos, games, and other interactive features to ensure learning is fun and engaging.
HALT-AD is personalized. Participants learn about their own risks, set their personal goals to achieve by the end of the program, and track their progress over time.
Cultural adaptation of HALT-AD
We are proud to have developed HALT-AD for the community and with the community. With support and guidance from a diverse community advisory board (CAB) and with feedback from our study participants, we culturally adapted HALT-AD to align with the traditions, customs, general interests, and other aspects of Latino/a cultural identities. We also ensured that translations to Spanish did not lose meaning. Recognizing the rich cultural diversity and heterogeneity among Latino/as , our team includes Latino/a researchers, staff, CAB members and participants from different countries and backgrounds (i.e, Chile, Mexico, Venezuela, Peru and the United States).
For questions or comments, please email Dr. Sara Moukarzel at smoukarzel@health.ucsd.edu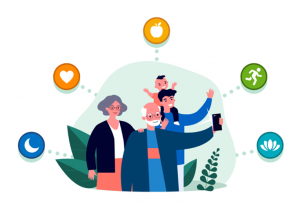 HALT-AD block authorship
Co-Principal Investigators: Howard H. Feldman, Sarah Banks
Co-investigators: Zvinka Zlatar, Sheri Hartman
HALT-AD Study Operations Team: Sara Moukarzel (Program lead); January Durant, Jody-Lynn Lupo & Carolyn Revta (Study and Protocol development specialists); Rosa Gutierrez Aceves, Carlos J Araujo Menendez & Michelle Herman (Latino/a community outreach and research coordinators); Maya Ramirez-Soto & Kassandra Cam (Social workers), Mariana Rodriguez (Translator); Julia Cheng & Eliza Galang (San Diego community outreach and research assistants), Tatiana Herold (Executive assistant); Steve (MingWu) Chang (IT support specialist); Jan Agee (Regulatory specialist) , Alexandre Shadyab & Daniel Bennett (Audiovisual and communication specialists), A. Carol Evans (Business and HR affairs director)
HALT-AD Module Authors: Fadel Zeidan, Ellen Lee, Atul Malhotra, Megan Fitzhugh, Claire Murphy, Katherine Banjen, Lauren Edwards, Sarah Banks, Howard Feldman, Ian Neel, Tiffany Holt, Anna Hunter, Zvinka Zlatar, Sheri J. Hartman
Community Advisors: Martha Galarza, Phyllis L. Munoz, Norma Porras, Ruth Rodriguez, Rosalina Rodriguez, Kevin Patrick, David Sommerfelt, Mary Linges, Genell Greenberg
Service providers: Derek Lomas (Playpower Labs Lead), Anunay Raj (Project Manager), Zeel Shah (Articulate Specialist), Arun Prakash (Graphic Designer), All at Playpower Labs